Finally, I'm done with Eid gatherings and dinners. This Eid was one of the MOST busiest Eid for me because (1. I'm a big girl now so I had to host things. (2. WE HAD SO MANY FEASTS MORE THAN EVER! I didn't argue much about my dressing like last year because suddenly I am bored with dressing up, yes a girl can say that. All I needed was a teal colored dress and I ended up getting one for Eid. I got the last minute henna treat by my own self and that's how my Eid outfit went.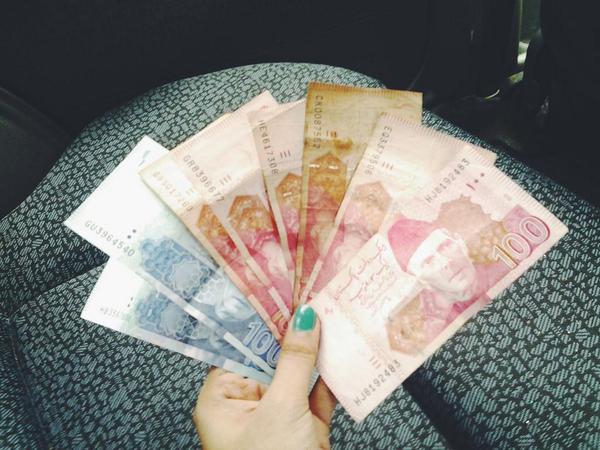 One of the best thing about Eidi! Eidi means MONEY! Yes kids get money as gift in Eid. Our elders give us money treat and I felt pretty much rich this time. Eidi is directly proportional to the amount of guests you get to meet #maths. This means: More guests = More richer you get.
And good news is that this picture of my Eidi won a little competition that Pizza Hut guys ran on their Twitter. Now I can't wait to get a tiny prize in mail. Look, Pizza is this awesome! Thanks PizzaHut guys!
Would you believe I didn't get much time for a proper photoshoot? Yes! All I have is a few car selfies that came out just because Noor is a selfie queen and always ready to take 1k selfies at a time. We were out in the city for some wandering with babajaan (my dad) And I'm glad Karachi was cloudy.
RAWWWWWWR.
Look at me. I rarely put on make up. My make up routine starts with a lip balm and ends up on a lip balm, nothing else. No matter where I am, parties, gatherings, birthday or anywhere else. All I put on this EId was a lip balm, a mascara and an eye liner and I was done. This addition was on a special request by my amma (mum) Make up is not necessary to feel pretty, there are other stuff that make me feel pretty. I think I need to blog about that hahaha.
This Eid was busy, yummy, tiring and memorable as always! We've had so much yummy food. From biryani to chicken roast, cold drinks to sweet dishes, everything. But my most favorite thing is to sit with a group of people I love and eat, laugh and remember the most silliest thing you've ever done! Eid is a blessing for sure that comes after Ramadan. I hope you've had a great Eid this year. And oh, it's August. My birthday month! And there are two weddings in a row to attend! This month is going to be a busy one!
Cheers,
ENJOY YOUR AUGUST!