I had a great childhood, no doubt. I was a chatterbox kind of kid. I really don't mind that my grandmother told me 2k fairy tales all with happy endings so that I can have sweet dreams of pixies and princesses. I was so proud when someone told me that I have a pixie nose which means a really tiny nose. After years, now I realize it was sarcasm!!!
So years ago, I was a kid. I loved stuff which was way too useless, but I WAS A KID! I wonder how I was ruining bit of my time which could be productive. But I was just a..... did you guess what I'm going to say?
Telling difference between me and my twin
Okay it was (still is) the worst part. Me and
Noor
are twins. I'm glad we have different facial faces now but a long while ago, we looked EXACTLY same. Everybody in our family and friend circle asked 236821 times the difference between me and Noori (also annoyed mum how she recognize us )
I died hard telling them that I have a beauty mark on my face and Noor doesn't. Sorry, it was of no work!
Watching Pokemon
My tv addiction! I never missed even a single episode for 3 years in a row. I wished to have a pet like Ash had in Pokemon, pickachuuuu!!!!
Finding gifts in meals
Cereals and Mc happy meals spoiled me. Yes, I was greedy. Food + gifts, life couldn't be more awesome. I had a great deal of those items mostly in card form but still was a toy or something that I loved.

Sharpen pencils
That was like a beauty contest between class fellows. I ruined my pencils and mum's money over this, I'm sorry. Girl with a beautifully sharpened pencil had GREAT respect in class.


Hoping to find real ghosts in Scooby Doo
I can count on my fingers that how many real ghosts they found. I always hoped that the ghost they've found is not fake. But I'm glad that they taught us that real monsters are humans.


Collecting stationary
Let me clear this, I had more stationary than toys. Every kind of journal, diary, glitter pens, colouring books, crayons, colours and paints, sticker sheets could be found in my drawer. I regret collecting much items than I can use. I just had a big and impressive collection and some items were totally if no use.
This could be my heaven!
Making up weird stories
Ahan, just to impress cousins and class fellows. Mixed up with great lies (bad thing, I know but I was just a ....you guessed? ) so I could act like I know better stuff than my folks. Like telling them how a fairy's house looks like from inside or how the lady on moon gets her food. I think this is the point where myths are started!


Pinkie Promise
The most popular thing in 90s little girls. I wonder that kids still make this. All I knew was I have to keep my promise and don't break it. Else Pinkie will break me. I don't remember breaking any pinkie promise.
So many Best Friends For Life
So this word BFF dramatically screwed my Kindergarten and middle school life. New BFF every month. All we used to do as besties was to exchange handmade gifts, lunch and silly secrets. When I told my BFF that I have a crush on a boy named Kai from Beyblade cartoons, she pinkie promised me that she won't tell it to anyone. After all she was my BFF.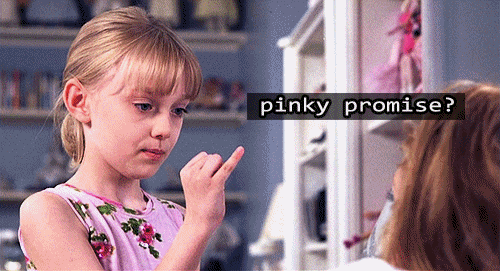 Do you remember anything from your childhood?